Reach your OT Career Goals.
Master's+Post Professional Doctor of Occupational Therapy
Maintain balance between life, work, and school and earn a Master's and post professional Doctor of Occupational Therapy (ppOTD) degree
online
from Marymount University.
The Master's+ OTD Program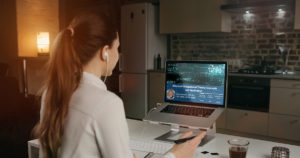 As part of the Master's+ OTD program at Marymount University, licensed Occupational Therapists with a minimum of a bachelor's degree will have the opportunity to earn an
Master's and then segue into the post professional Doctor of Occupational Therapy degree program. You will be able to choose from one of five pathways to help support your career goals and preparing you to enter the Doctor of Occupational Therapy program.
Master's+ Pathways:
Public Health Education & Promotion Master (30 credits +6 ppOTD credits)
Emerging Technology Master & Certificates (36 credits)
Master of Business Administration (36 credits)
Business Master & Certificates (36 credits)
2 Certificates & 2 Business Courses (30 credits)
For some pathways, 6 ppOTD credits may be able to be credited back to your business plan.  To help you learn about the pathways in relation to your career goals, personal advisors can support you through the process.  To learn more about the Master's+OTD pathways, schedule an appointment with an advisor today or review individual pathways here.
Be Empowered. Move Your Career Forward with Your ppOTD.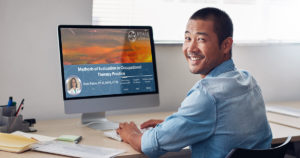 You can earn your post professional Doctor of Occupational Therapy degree in just 5 semesters for Marymount University powered by Rehab Essentials.  The contemporary 100% online format engages you from virtually anywhere, when you are ready and on your schedule. And all with a budget friendly tuition. Plus, Marymount University is institutionally accredited by the Southern Association of Colleges and Schools (SACSCOC). Throughout this post-professional program you will gain advanced critical thinking, professional knowledge, and skills to apply of the science and art of occupational therapy.   You have 24/7 online access to your courses and assignments when you are ready from virtually anywhere. Courses can be viewed and reviewed anytime within the semester. Deadlines and key dates for assignments, quizzes and exams are easily found in the course dashboard to keep you on track. You will be empowered to move your career forward and be better prepared to become a leader in occupational therapy.